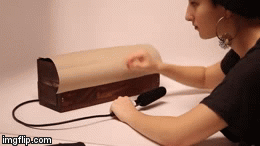 Most of us are accustomed to navigating the world using our eyeballs. If we think of the sense of sight as a muscle, we get regular, rigorous visual exercise as we stare into screens, navigate public spaces, and snap photos with our smart phones.
But what about our other senses?
This project by Viniyata Pany, Dhruv Damle, and I came out of a desire to exercise and explore two of those underappreciated, underutilized senses: the sense of smell and the sense of sound.
As ITP alum Alex Kauffman wrote, "Smell is subjective, it's ephemeral, and it's not binary." Interactions that involve smell are qualitatively different from interactions that involve our eyes.
Since much has been made of the relationship between smell and memory, as well as the relationship between smell and pleasure, we designed a device that uses scent as a positive feedback mechanism to encourage vocal students to practice singing.
Here's how it works:
Select the note you want to practice by pressing one of the eight buttons. You'll hear a recording of the selected note and a recording of the tanpura for you to sing along to.
Sing! As you sing into microphone, the device determines when your voice is within the frequency range for the note you selected. When you're within range, the device sprays a delicious smell.
Takeaways 
Olfactory feedback: how and when it works, how and when it doesn't
The Winter Show gave us a chance to user test with dozens of people. In general, people were excited about the idea of smell as a feedback mechanism because it's not something they were used to. That said, smell wasn't practical in letting people know whether they were singing correctly or not.
We used jasmine as the "correct" smell and tangerine as the "incorrect" smell, but people had different feelings about both and the smells tended to blend together and disappear when a user spent more than a few minutes with the box.
With all of this in mind, when I think about what a more successful olfactory project might look like, I now think of delicious cooking smells that become associated with a particular activity: gathering people for a meeting. Practicing coding. Journaling. A single smell as a backdrop as opposed to multiple smells as tools, and an activity without benchmarks, that doesn't require immediate feedback.
On the singing side, I find this project (which some smart stranger at the show told us to check out) really interesting: Vocal Vibrations.
Winter Show
I'd never participated in a show! It took a surprising amount of work to set up a relatively small exhibition space that worked with our project. Compared to some other projects, ours was meant to exist in a really specific environment: a cozy den or living room where you would camp out for an hour or two to practice singing. For the show, we were ultimately on the floor, surrounded by cushions, plants, and rugs.
The Morning Raaga Tumblr was helpful for explaining the project. We had it up on an iPad in front of our space.
Project Inspiration
Alex Kauffman's Scratch N Sniff Television
Designing for All 5 Senses, talk by Jinsop Lee
Process
Arduino Code
1

2

3

4

5

6

7

8

9

10

11

12

13

14

15

16

17

18

19

20

21

22

23

24

25

26

27

28

29

30

31

32

33

34

35

36

37

38

39

40

41

42

43

44

45

46

47

48

49

50

51

52

53

54

55

56

57

58

59

60

61

62

63

64

65

66

67

68

69

70

71

72

73

74

75

76

77

78

79

80

81

82

83

84

85

86

87

88

89

90

91

92

93

94

95

96

97

98

99

100

101

102

103

104

105

106

107

108

109

110

111

112

113

114

115

116

117

118

119

120

121

122

123

124

125

126

127

128

129

130

131

132

133

134

135

136

137

138

139

140

141

142

143

144

145

146

147

148

149

150

151

152

153

154

155

156

157

158

159

160

161

162

163

164

165

166

167

168

169

170

171

172

173

174

175

176

177

178

//code by dhruv damle, itp 2015

//with help from/thanks to tom igoe and sam sadtler

//Pins 30-37: Digital buttons for the octave notes

int

buttonPin

[

8

]

;

// the pin that the pushbutton is attached to

int

ledPin

=

13

;

// the pin that the LED is attached to

const

int

goodSprayPin

=

50

;

//Arduino pin for good spray motor

const

int

badSprayPin

=

51

;

//Arduino pin for bad spray motor

const

int

goodFanPin

=

40

;

//Arduino pin for good fan

const

int

badFanPin

=

41

;

//Arduino pin for bad fan

int

buttonState

[

8

]

=

{

0

,

0

,

0

,

0

,

0

,

0

,

0

,

0

}

;

// current state of the button

int

lastButtonState

[

8

]

=

{

0

,

0

,

0

,

0

,

0

,

0

,

0

,

0

}

;

// previous state of the button

//int goodFanStartTime; //stopwatch for operating good fan for certain time

//int badFanStartTime; //stopwatch for operating bad fan for certain time

String

incomingString

=

"Test 4"

;

for

(

int

i

=

0

;

i

<

8

;

i

++

)

// initialize the button pin as a input:

pinMode

(

buttonPin

[

i

]

,

INPUT

)

;

// initialize the motor pins as an output:

pinMode

(

goodSprayPin

,

OUTPUT

)

;

pinMode

(

badSprayPin

,

OUTPUT

)

;

// initialize serial communication:

//Check if any button is pressed. Play corresponding reference note if pressed.

//Check the most recent performance and evaluate.

//Spray time! Based on cumulative evaluation results from last 3 seconds, spray good/ bad.

for

(

int

i

=

0

;

i

<

8

;

i

++

)

buttonState

[

i

]

=

digitalRead

(

buttonPin

[

i

]

)

;

if

(

buttonState

[

i

]

!=

lastButtonState

[

i

]

&&

buttonState

[

i

]

==

HIGH

)

if

(

pivot

==

i

)

// toggle back to zero.

else

// if (pivot != i), activate this button.

// save the current state as the last state,

//for next time through the loop

lastButtonState

[

i

]

=

buttonState

[

i

]

;

digitalWrite

(

badSprayPin

,

LOW

)

;

digitalWrite

(

goodSprayPin

,

HIGH

)

;

//Good spray trigger

delay

(

50

)

;

//trigger stays momentarily ON for the motor

digitalWrite

(

goodSprayPin

,

LOW

)

;

//Good spray off

Serial

.

println

(

"Spray good good good good"

)

;

digitalWrite

(

goodSprayPin

,

LOW

)

;

digitalWrite

(

badSprayPin

,

HIGH

)

;

//Bad spray trigger

delay

(

50

)

;

//trigger stays momentarily ON for the motor

digitalWrite

(

badSprayPin

,

LOW

)

;

//Bad spray off

Serial

.

println

(

"Spray bad bad bad bad bad"

)

;

if

(

Serial

.

available

(

)

>

0

)

{

incomingString

=

Serial

.

readStringUntil

(

'\n'

)

;

//this worked on pcomp final

firstValue

=

incomingString

.

substring

(

0

,

incomingString

.

indexOf

(

','

)

)

;

secondValue

=

incomingString

.

substring

(

incomingString

.

indexOf

(

','

)

+

1

,

incomingString

.

indexOf

(

','

,

incomingString

.

indexOf

(

','

)

+

1

)

)

;

if

(

secondValue

==

"hh"

&&

pivot

==

-

1

)

{

//Off. All buttons are off, stop evaluating. Set points to zero for next evaluation cycle.

digitalWrite

(

goodSprayPin

,

LOW

)

;

digitalWrite

(

badSprayPin

,

LOW

)

;

else

if

(

(

secondValue

==

"a1"

||

secondValue

==

"b1"

||

secondValue

==

"c1"

||

secondValue

==

"d1"

||

secondValue

==

"e1"

||

secondValue

==

"f1"

||

secondValue

==

"g1"

)

&&

pivot

!=

-

1

)

else

if

(

(

secondValue

==

"a0"

||

secondValue

==

"b0"

||

secondValue

==

"c0"

||

secondValue

==

"d0"

||

secondValue

==

"e0"

||

secondValue

==

"f0"

||

secondValue

==

"g0"

)

&&

pivot

!=

-

1

)

unsigned

long

currentMillis

=

millis

(

)

;

if

(

secondValue

==

"hh"

)

// no note/ button selected

digitalWrite

(

goodSprayPin

,

LOW

)

;

digitalWrite

(

badSprayPin

,

LOW

)

;

//else if (millis() % 3000 >= 0 && millis() % 3000 < 55) //every 3 seconds

else

if

(

currentMillis

-

timer

>

6000

)

//every 3 seconds

Serial

.

print

(

"current millis count: "

)

;

Serial

.

println

(

currentMillis

)

;

Serial

.

print

(

"current timer count: "

)

;

if

(

rightPoints

>=

(

wrongPoints

+

rightPoints

)

*

0.4

&&

pivot

!=

-

1

)

{

//if cumulative rightPoints higher than wrong

Serial

.

println

(

"goodspray"

)

;

else

if

(

rightPoints

<

(

wrongPoints

+

rightPoints

)

*

0.4

&&

pivot

!=

-

1

)

{

//if cumulative wrongsPoints higher than wrong

Serial

.

println

(

"badspray"

)

;

digitalWrite

(

goodSprayPin

,

LOW

)

;

digitalWrite

(

badSprayPin

,

LOW

)

;